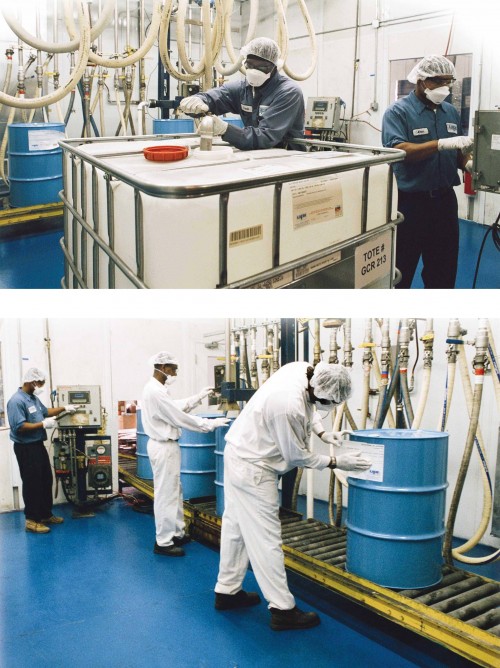 UPI is a ISO9001:2008 and cGMP certified facility that can offer full service contract filling of your USP, FCC liquid chemicals into pails, drums, or totes. State of the art automated filling equipment and UPI experienced trained personnel offer the perfect solution for your liquid filling requirements. Our "Bulk White Room" can receive liquid material in bulk flexitainer, isotainer or tank truck and package it into containers of your choice. Our comprehensive filling solutions may include the cost of handling, packaging, container, labeling and shipping if so desired.
We can offer Kosher Supervision if required and provide custom labeling to meet your requirements. Our White Rooms are NJ Board of Health Inspected. UPI strives to achieve full compliance with all OSHA, EPA, FDA, DOT, DHS, IMDG, IATA, DEA, cGMP, RCRA and other applicable chemical management regulations. Our "Quality Care" group provides the best in class industry standards for overall safe and quality handling of your products. Don't rely on an inexperienced third party to package your material but instead go with the quality chemical distribution and handling experts at UPI.
Products can be packaged with Nitrogen "padding" to prevent product degradation by the effects of atmospheric oxygen and moisture. All container openings would receive tamper seals and seal numbers would be recorded to insure product integrity and safety.
Please contact our UPI Sales Team with any questions or pricing requests you may have regarding our Contract Liquid Filling Services. 
"We Deliver Quality, in spec and on time!"