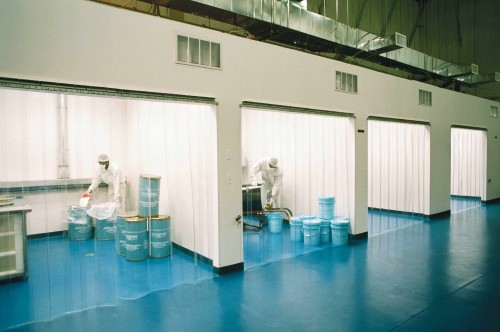 All of the products that are repackaged by UPI are packaged and processed at our corporate headquarters in Somerset, New Jersey. Our state of the art "White Rooms" allow UPI to repackage our entire product portfolio under cGMP AND ISO9001 standards.  By adhering to these protocols we can insure the highest quality product and supervision for all materials that pass through this facility and represent the "UPI BRAND." There is no need to purchase excessive inventory and risk being burdened with expired stock.  UPI can provide the precise quantities that your batch sheets or formulations require.  Allow UPI to offer you our less than standard sized packaging services" and the comfort knowing that these materials are packaged according to the highest standards in the industry.  Some of the features of our White Room Repackaging facility include the following:
FDA registered and approved facility.
100% fresh make up air maintained at ambient temperature.
High Speed Doors throughout the facility to insure & maintain safe environmental enclosure.
Modern equipment and facility.
Full clean room Epoxy flooring throughout facility to maintain highest standards of cleanliness and appearance.
Dedicated powder and liquid repackaging rooms to ensure no cross contamination.
Independent Dust Collection Systems and Exhaust Systems to insure operator and product safety.
Routine Micro Swabbing to insure zero contamination throughout facility.
In-House Analytical Lab to confirm product integrity.
Comprehensive Technical Service and Documentation Teams to monitor and service entire operation.
24 / 7 monitored video security / surveillance system to insure product and operator safety.
Kosher supervision available
Please contact our Sales Team and see how our repackaging capabilities can benefit your company.  From gram samples to bulk packaging, UPI is ready to satisfy your specialized packaging demands.  We welcome the opportunity for you to meet our team and tour our facilities.
"We Delivery Quality, in-spec and on time!"